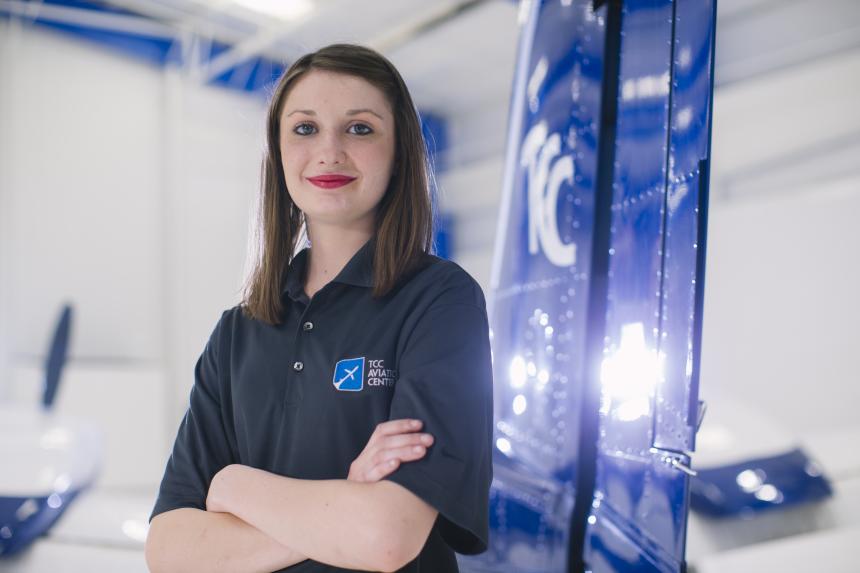 Aviation Sciences Technology - Professional Pilot
Classes offered at following campus(es)
Riverside Community Campus and Aviation Center
Sign Up For More Info
TCC's Professional Pilot program will help your aviation career take flight. Employment opportunities for professional pilots may be found with regional and major airlines, charter operations, cargo operations, agricultural flying flight schools, corporate flight departments, or with a government agency.
TCC's Aviation Center is an FAA Part 141-approved pilot training school. Our ground school and flight training provide the necessary tools to acquire a Federal Aviation Administration (FAA) Private Pilot Certificate, Instrument Rating and Commercial Certificate.
TCC's ground school courses and flight labs, along with the required general education courses, will qualify you to obtain an Associate of Applied Science degree. You may then transfer to OSU-Tulsa to complete your Bachelor of Science degree in the Professional Pilot and/or Management option. In order to receive an Associate Degree in Applied Science through the TCC program, you must complete a minimum of two flight labs with an "A" flying in TCC aircraft with TCC instructors.
Here are our procedures for enrolling in Aviation Courses:
All prospective flight students must meet with the TCC aviation counselor at the TCC Riverside Community Campus and Aviation Center located at 112 W. Beechcraft Drive, Tulsa, OK 71432, at the Richard L. Jones, Jr. Airport.
Potential flight students must provide the following documents to the aviation counselor prior to enrollment:

Proof of U.S. citizenship in form of:

An original birth certificate with raised seal documenting birth in the United States or one of its territories,
A valid, unexpired United States passport,
An original U.S. Naturalization Certificate with raised seal, Form N-550 or Form N-570,
An original certification of birth abroad, Form FS-545 or Form DS-1350, or
An original Certificate of U.S. Citizenship, Form N-560 or Form N-561.

Valid FAA Medical Certificate
Valid government issued photo identification
University Transfer Degree Information
Students should work closely with an academic advisor each semester to make certain you are enrolled in the correct courses for your degree program, especially if you are planning to transfer to a four-year college or university. Students are encouraged to begin a dialogue with their intended transfer schools as early as possible. Early coordination between TCC academic advisors and advisors from selected four-year institutions can streamline the transfer process. It is the student's responsibility to ensure that he/she understands the program/admission/transfer requirements for the transfer school.
Program & Degree Info
Academic Programs

All Programs (By Career)
All Courses (A-Z)

Degree/Certificates

Associate's Degree
University Transfer Degrees
Workforce Degrees & Certificates