The Thomas K. McKeon Center for Creativity ignites the creative spirit through education, collaboration and inspiration. It provides creative spaces for learning, both for students and the community. The Center is also home to TCC's online learning administration and a variety of degrees and certificates of achievement are offered in visual art, digital media and design and mass communication.
The public is invited to the Center for Creativity for free workshops, events, and art exhibitions. Think you can't draw, dance, act, or design? Come take one of our free "I Can't" workshops, and awaken a dormant section of your brain. Go on a photo shoot with a Pulitzer Prize-winner, paint with internationally known artists, or see an art exhibit. Stay informed about ongoing activities and register for our digital newsletter. Come explore at the Center for Creativity!
To request a sign language interpreter call (918) 595-7428, text (918) 809-1864 or email rcdhh@tulsacc.edu. To request accommodations for other disabilities call (918) 595-7115 or email eac@tulsacc.edu. Advance notice requested.
Hours:
Since the Event Hall often hosts exhibits and events simultaneously, call (918) 595-7143 during office hours before planning your visit.
Office hours:
Monday - Friday 8 a.m. - 5 p.m.
General fall and spring semester building hours:
Monday - Friday 7 a.m. - 9 p.m.
Saturday 9 a.m. - 3 p.m.
Sunday Closed
Map & Directions
910 South Boston Avenue Tulsa, OK 74119-2095
Parking
Visitors may park in metered spots in front of the C4C, or in any of the pictured lots: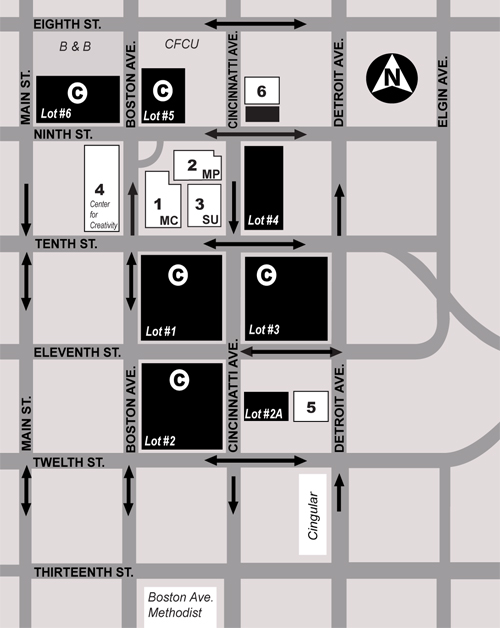 Think you can't do something? Think again!
I Can't Workshops are held every Monday in the Center for Creativity!