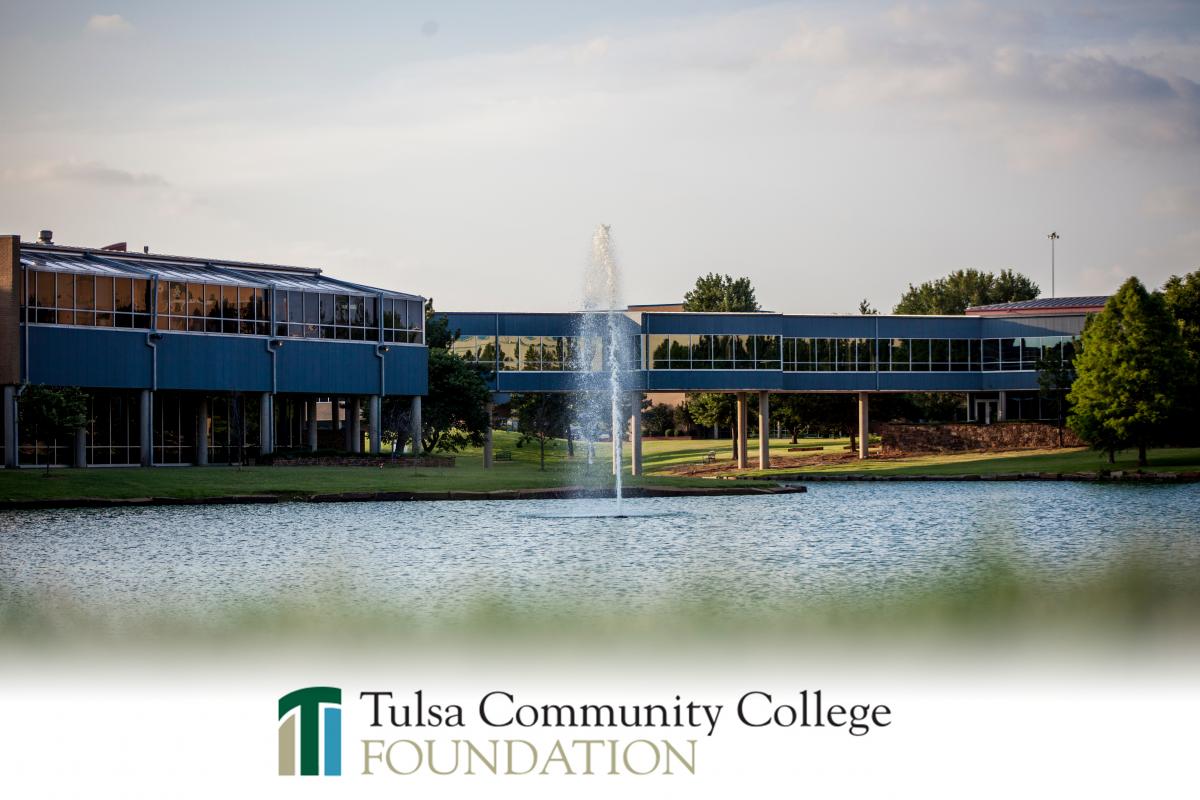 TCC Foundation Mission
The Tulsa Community College Foundation provides support to Tulsa Community College and its mission by developing key relationships and financial resources.

The TCC Foundation was established in 1970 to support the vision of Tulsa Community College - to offer greater access to quality higher education, and to support TCC students, faculty and staff by providing scholarships and resources for program excellence. Through generous donations, we have:
Raised more than $1.3 million in contributions for the successful Health Sciences and Biotechnology Learning Center which trains allied health employees including nurses, dental hygienists and radiology technicians as well as students in biotechnology roles and university transfer programs. Additionally, the Foundation provides tens of thousands of dollars in nursing and biotechnology scholarships.
Opened the TCC Education Outreach Center designed to guide first-generation college students through the college process as well as offering bilingual and technology courses, student advisement and enrollment services.
Participated in bringing forth the Thomas K. McKeon Center for Creativity; a central hub for education, innovation, creativity and technology in downtown Tulsa featuring event, classroom and student space.
Values and Beliefs
TCC Foundation supports the philosophy and mission of TCC which:
Provides quality higher education to all sectors of the community;
Is responsive, timely and proactive in meeting the needs of the subset business community;
Sets the standard for integrity and professionalism; and
Is a leader in developing cutting-edge programs.
The Foundation believes that all Foundation Board Members should be active in their Foundation support.
The Foundation believes that those who benefit from the TCC should contribute to it.
The Foundation will conduct its operations with financial integrity.
The Foundation will be proactive in anticipating and planning for TCC needs.
---

Take a look at photos from the 2018 TCC Foundation event to reveal the new design of the Student Success and Career Center at the TCC Southeast Campus:

Ways to Give:
| | | |
| --- | --- | --- |
| | Make a Gift | The Campaign for Completion |
| TCC President's Society | Believe in TCC | Signature Symphony |
| | | |
Other ways to help:
Capital Projects and Equipment
For information contact (918) 595-7836.
2018 TCC Foundation Board
Executive Committee
Chair: Konnie Boulter, Program Director, The Oxley Foundation
Vice Chair: Phil Lakin, Jr., CEO, Tulsa Community Foundation
Secretary/Treasurer: David Stratton, President, JPMorgan Chase, Tulsa
Past Chair: Alana Hughes, Chief Operating Officer, Charles & Lynn Schusterman Family Foundation
Trustees
Leeland Alexander, Associate Vice President, OU-Tulsa Schusterman Center
Billie T. Barnett, Community Volunteer
Teresa Meinders Burkett, Partner, Conner & Winters, LLP
Jim Cameron, CEO, Cameron Glass, Inc.
David Cole, Private Banking Manager, SVP, Bank of Oklahoma
Carlin Conner, President & CEO, SemGroup Corp.
Lisette Coston, Executive Director of Support Services, Saint Francis Health System
Sharon King Davis, Partner, King Investments
Jim Dunn, Chairman, Mill Creek Lumber & Supply Co.
Ed Fariss, Retired
Steven L. Fate, Director of Business Operations Support, Public Service of Oklahoma
Shane Fernandez, President of Nabholz Southwest, Nabholz Corporation
Susan E. Harris, Retired/Consultant
M. Ted Haynes, President, Blue Cross and Blue Shield of Oklahoma
Kirk Hays, President and CEO, Arvest Bank
Andy Kinslow, President, KKT Architects, Inc.
David Kollmann, President, Central Region, Flintco, LLC
Jim Langdon, Publisher, Langdon Publishing Co.
William M. Lissau, Oklahoma Market President, Bank of America
Mina Lotti, Community Volunteer
Tim Lyons, President & CEO, TTCU The Credit Union
Meredith Siegfried Madden, CEO, The NORDAM Group, Inc.
Susan B. Neal, VP for Public Affairs, Research & Economic Development, University of Tulsa
Pierce H. Norton II, President & CEO, ONE Gas
Joan P. Parkhurst, Parkhurst Investments
Eleanor Payne, Community Volunteer
Henry Primeaux III, Investor
Roger Ramseyer, Vice President & Tulsa Market Leader, Cox Communications
Lou Reynolds, Senior Partner, Eller & Detrich
John Rupe Jr., CEO, Rupe Helmer Group
E. Paul Samuels, Senior VP, Wealth Management, Morgan Stanley
Mary Shaw, Community Volunteer
Melinda Stinnett, President, Stinnett & Associates, LLC
Steve Turnbo, Chairman Emeritus, Schnake Turnbo Frank
Chad Zamarin, Senior Vice President of Corporate Strategic Development, The Williams Companies, Inc.
Staff
Leigh B. Goodson, Ph.D., President & CEO, Tulsa Community College
Lauren Brookey, Vice President of External Affairs and President of TCC Foundation
Mark McMullen, CFO, Tulsa Community College
Rachel Hutchings, Director of Development, Tulsa Community College Foundation
Monica Champ, Director of Major Gifts, Tulsa Community College Foundation
Mautia Hall, Assistant Director of Development, Tulsa Community College Foundation
Jeanne Blackwell, Administrative Assistant, Tulsa Community College Foundation
Terri Floistad, Director of Foundation Finance, Part-Time, Tulsa Community College Foundation
Nancy Inglett, Foundation Board Liaison, Part-Time, Tulsa Community College Foundation