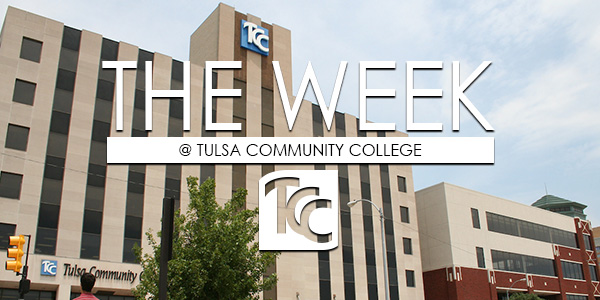 May 15, 2018
---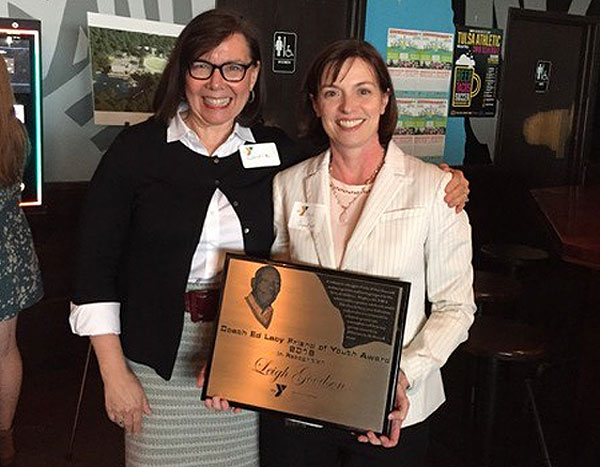 The YMCA of Greater Tulsa announced TCC President and CEO Leigh Goodson as its 2017-2018 Ed Lacy Award winner. The the "Coach Ed Lacy Friend of Youth Award" is the highest award given by the YMCA of Greater Tulsa. Goodson has spent 40 years connected to the YMCA, from being a camper as a child to serving as Metropolitan Board Chair.
---

Course Cancellations Down, Enrollments Up
Changes to how TCC creates its class schedule have resulted in fewer courses being cancelled, more courses being offered, and increased enrollment.
Between Spring 2017 and Spring 2018, the total number of classes offered increased by 2.3 percent, and the cancellation of classes rate decreased by 3.4 percent.
Scheduling classes is a complicated process for any institution of higher education. It involves no small number of moving parts, including campus populations, program locations, available qualified faculty, and predicting the number of students who will need a particular class in a particular semester. Having four campuses and several off-campus locations increases the number of complicating factors.
In recent years, TCC has made massive shifts in how it coordinates classes and sections between campuses. One of those changes involves fill rates.
A "fill rate" is the number of students enrolled versus the class maximum. Currently, the target fill rate at TCC is 80 percent.
"We want to ensure we're at 80 percent of capacity for any class that has multiple sections," says TCC Assistant Vice President of Enrollment Management Eileen Kenney. "Doing so allows us to conduct better section management. We're ensuring we're offering the correct number of the right courses needed for the number of students predicted to enroll. As a result, we are cancelling fewer and fewer sections."
---

New President's Leadership Institute Class Announced!
Last week, the new cohort for the 2018-19 President's Leadership Institute was announced.
The new class includes: Amber Chase, Dan White, Dewayne Dickens, Gloria Kirkpatrick, Julie Basden, Keidron Dotson, Keilah Deatherage, Laura Cowan, Leigh Gulley, Lindsay Fields, Lindsey Barbour, Lisa Gerow, Mary Sirkel, Matt Jostes, Matt Mounger, Melissa Kash, Monica Champ, Rachel Longacre, Tim Lawson, and Will Sprung.
"We are excited about the new cohort. We had a pool of fantastic candidates to choose from, all leaders in their departments with passion for the College's mission," says TCC President and CEO Leigh B. Goodson. "Participants will gain leadership skills, foster interdepartmental relationships and develop greater insight into the College, all of which will serve us well as we continue to focus our collective efforts on student success."
The President's Leadership Institute builds on the talent and drive already existing in TCC to grow its future leaders. The experiences working and learning together in the institute build camaraderie and strengthen ties across departments, helping participants to discover new opportunities and creative ways to serve students.
The institute is designed to build collaborative skills, offer greater insight into the College's operations, services and programs, and influence the next generation of leaders to serve TCC students, the greater Tulsa community and the vision of education nationwide. Selection to the institute is by application, and is open to all full-time TCC faculty and staff members, in all roles, levels and departments.


Save the date! More details coming soon!
---
Free Depeche Mode Tickets
The TCC Foundation has been gifted tickets to Depeche Mode at the BOK Center May 29 at 7:30 p.m. As a thank you for reading The Week, the first 10 employees who come to room 605 at the Conference Center will receive two free tickets. (We promise this is nothing like the Great Hall and Oates Voucher Fiasco of 2017. You will receive two actual tickets to Depeche Mode.)

The tickets will be available on a first come, first serve basis. Ready ... go!
---
Summer Hours Reminder
TCC Summer hours return the first full week in June. Employees have the option to work nine- or ten-hour days.
Summer hours will occur during the same summer school period as last year, June 4-July 27. Employees are required to work 40 hours and all departments must be open for business until 1 p.m. on Fridays.
"We received a few complaints last year about some departments not being able to serve college needs on Fridays in the summer. Someone knowledgeable must be able to run the office, to assist both students and other employees, until the doors close Friday afternoon," says TCC President and CEO Leigh Goodson.

"We believe this schedule accommodates both students and employees and the advanced notice gives departments plenty of time to adjust schedules for summer hours."
---
HR Update: Required Trainings
There's a new process to enable TCC to meet basic regulatory compliance standards for Safety, Risk Management and other federal laws.

There will be four required training courses for 2018-19 for all employees. Employees may complete these trainings between now and June 30, 2019. Employees may access these trainings under their Learning Plan in Skillsoft.
Defensive Driving Fundamentals
Workplace Safety
FERPA
Title IX (coming soon!)
For Full-Time Staff (non-faculty), the Performance Review form is part of this process. Each year, the supervisor will review with the employee the expected compliance training for the upcoming year. This year, the employee will check a box verifying "My supervisor and I have discussed required training for 2018-2019" as they submit their review.

At the end of this compliance period (2018-2019), the supervisor will verify the employee has completed these trainings. Employees may print a transcript from Skillsoft to provide their managers with verification of completion. Incomplete training will result in an inability to rate the employee as Meets Expectations or Exceeds Expectations. The faculty portfolio will have a new tab for tracking these trainings.

If you have questions about the changes to the Performance Review form, please contact Jeff Owens, HR Assistant Director, @x7863 or jeff.owens@tulsacc.edu.

For questions about how to access the online Skillsoft training courses, please contact Cat (Catrina) Rockholt, HR Specialist, @x7864 or catrina.rockholt@tulsacc.edu.

*Please note, part-time employees have a different log-in process than full-time employees. Part-time employees should use their T# for both their User Id and default Password in Skillsoft.
---
In the News
---
Spotlight on Community
Download or browse TCC's latest magazine! The new issue features stories on the Equity Scorecard, MathPath, Tulsa Achieves and more!
---
We want your feedback!
Tell us what you think about The Week @ TCC


UAS Lunch, Learn and Network
May 17, 11 a.m. - 1:00 p.m.
McKeon Center for Creativity

Please come and join our lunch and learn discussions with panelists from both the drone industry and higher education. The latest drone activity increases in the business, workforce, and educational fields in the Tulsa area will be discussed.

Schedule:
Check-in and Lunch - 11 a.m.
Panelists - 11:40 a.m.
Conclusion - 1 p.m.
Free to attend but seating is limited. Sign-up today to reserve your spot. If you have questions, call 918-595-7200. Sign up at: https://tcc-ce-uas.eventbrite.com/
---
Tulsa Pride Parade
June 2, 5:30 p.m.
13th & Boston (Park at Metro Campus)

All faculty, staff, students, alumni, friends and family are welcome to ride and walk with the TCC float in the Tulsa Pride Parade. Meet on the corner of 13th & Boston, and look for the TCC float. Walkers are encouraged to wear TCC blue or rainbow attire, but be sure to wear clothes for walking. It may be hot, so plan accordingly. Parade will end around 4th & Lansing. A TCC van will be ready to transport people back to the Metro Parking lot.

For more info, contact David Adams, director of student life at Metro Campus at david.adams5@tulsacc.edu, or Libby Adjei, director of student diversity outreach programs at libby.adjei@tulsacc.edu.
---
Coming Up at the McKeon Center for Creativity
TCC Secret Artist Show
May 9, 1-3 p.m.
See the artistic talent your colleagues have been hiding at the opening reception of the TCC Secret Artist Show from 1 to 3 p.m. Wednesday, May 9 at the McKeon Center for Creativity. Refreshments provided by Provost Greg Stone. The show features photography, paintings, pottery, and textiles created by TCC faculty and staff. The exhibition will through May 29.
Artist Forum: Inclusion in Art
May 16, 5:30-7:30 p.m.
The Oklahoma Visual Arts Coalition (OVAC) invites you to a panel discussion on Inclusion In Art on Wednesday, May 16 from 5:30-7:30 p.m. This panel will be moderated by Christina Burke and include artists Narciso Argüelles, Anita Fields, Lawrence Naff, and Anh-Thuy Nguyen. The discussion will explore issues of opportunities and inclusion among diverse communities in Oklahoma's visual arts. Inclusion in Art is a statewide organization dedicated to promoting racial and cultural diversity in Oklahoma's visual arts community.
Meet Pulitzer Prize Winner Richard Russo
May 17, 7 p.m.
Booksmart Tulsa presents Richard Russo at the Center for Creativity at 7 p.m. Thursday, May 17. Russo is the author of eight novels, most recently Everybody's Fool and That Old Cape Magic; two collections of stories, with Trajectory published in 2017; and the memoir Elsewhere. In 2002 he received the Pulitzer Prize for Empire Falls, which was adapted to film in a multiple-award-winning HBO miniseries. The event is free and open to the public.

TCC's HLC Assurance Argument Posted for Review
In advance of the Higher Learning Commission's accreditation visit this coming September, TCC has posted a draft of its assurance argument that states how TCC meets HLC's five criteria for accreditation. The criteria for accreditation include:
Mission – Is TCC's mission clear and does it guide all college operations?
Integrity: Ethical and Responsible Conduct – Does TCC act with integrity and operate in an ethical and responsible way?
Teaching and Learning: Quality Resources and Support – Does TCC provide a high-quality education at all locations and in all environments and settings?
Teaching and Learning: Evaluation and Improvement – Is TCC committed to effective assessment and continuous improvements for programs and services?
Resources, Planning, and Institutional Effectiveness – Does TCC have sufficient resources, processes, and structures to sustain current and future needs?
The assurance argument can be viewed at http://www.tulsacc.edu/hlc-accreditation/assurance-argument, and our HLC Assurance Committee needs faculty and staff to review the document and provide feedback. The document provides the base from which the HCL peer reviewers will evaluate the College.

The HLC Assurance Committee would like faculty and staff feedback before May 31. All responses to the argument should be sent to HLC@tulsacc.edu.
---
New Retiree Benefit
Effective June 1, 2018, Tulsa Community College Retirees will receive a discount to TCC Fitness Centers. Retiree Membership Fees per Semester:
Fall Semester - $25
Spring Semester - $25
Summer Semester - $12.50
The Fitness Centers at Tulsa Community College are located inside the Student Unions at Metro, Northeast, Southeast and West campuses. All Fitness Centers have basketball/volleyball courts, an indoor walking track, an aerobics room with free group fitness classes, as well as cardio and strength training areas. A TCC ID will be required to access the Fitness Center and can be obtained at Student Life when purchasing a membership.
Visit our
website
for a list of our free classes and hours. For more information, please feel free to contact any of the fitness centers.
---
TCC Catalog Now Available For Printing
The TCC catalog is now available for faculty and staff to request prints. They can make the request through FedEx or through Gameplan.
Procedure to order through FedEx:
Each Department has an "Order Placer" with Jagger-SciQuest credentials
From Jagger-SciQuest, click on the FedEx office icon that takes them to the TCC "Print On Line Corporate" site. Also, known as "POLC"
The catalog would be stored in the "DocStore" tab as "2018-2019 TCC Catalog"
The delivery location is also set by the "Order Placer" and is set to wherever that department receives normal deliveries on campus.
Procedure to order through Gameplan:
Go to TulsaCC.edu/Gameplan
Select "Print Shop Services" from menu
Enter "2018-2019 TCC Catalog" as project type
Indicate how many copies you need
If you have questions, please contact Metro Print Shop at x7221.
---

TCC Social Media
Do you follow TCC on social media? Our social media accounts can keep you up-to-date on campus activities, upcoming deadlines, and what's going on with TCC students. Below, you can find links to TCC's Twitter feed, Facebook page, YouTube page, and Instagram feed. Like, friend, follow and stay connected!
---
Cost Savings Survey
In order to be good stewards of our resources, Tulsa Community College is interested in your cost saving ideas.

If you have an idea to save College resources,
please submit your ideas here.
---